Your business plan: The benefits it provides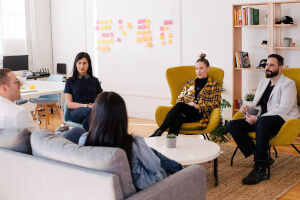 Whether you are starting a new business or deciding that your existing company needs a refresh, a business plan can help you on your way. A business plan is a great way of making sure your business is heading in the right direction. You might be wondering: how do you write a business plan and what should it include? We've got the answers to your questions, as well as outlining the benefits of a business plan:
What your business plan includes
Your business plan should include a variety of information in order to serve you and your company correctly. The purpose of a business plan is to highlight areas to work on and know what you do thoroughly enough to be able to further your success. This is what you should include:
An executive summary
An executive summary outlines exactly what is in the business plan, explaining who you are and what you do in a detailed manner. Explain how your products or services set you apart within your industry and how you can help clients.
Showcase market research
It's important to know as much about your relevant market as possible, as well as your target audience. This will enable you to target specific marketing strategies to help further your business and its progress.
A detailed marketing plan
Outlining a detailed marketing plan will allow you to set clear targets, as well as being able to see your company's trajectory as you meet them. It also provides structure for your business and your employees, with everyone having common targets in mind.
Competitor research
Researching your competitors is an imperative part of a good business plan. You can identify parts of your business that aren't performing well in comparison to your competitors and outline how you will overtake their success.
Financial forecast
A financial plan should outline which parts of your business demand attention and which parts are thriving. Outlining your cash flow, profits, and long-term financial projections allow you to decide where your efforts should be directed, and in which proportions.
Why a business plan will benefit you
In order to become a successful business, a plan is essential. Here are the many benefits you could encounter after you have solidified your plan:
Steer your business's direction
A business plan helps you to lay out your next steps and steer your company in the right direction. This could transform the way different departments work in your business, allowing you to make the necessary changes.
Outline business milestones
Every business thrives when they have milestones to work towards, and this is a great way to motivate and incentivise your management team and employees. Milestones also allow you to celebrate your business' successes.
Help receive funding
If your business is striving to get funding, a business plan is your best bet for enticing investors. With a detailed, thought-out plan, your preparation and organisation will show investors the purpose of your business and how it can thrive.
Determine future financial plans
Determining future financial plans will allow you to see which targets you need to hit in order to grow your company, as well as outlining your budgets for the business year. This could show you what needs to change in your company.
Attract future employees
As well as attracting investors, a business plan can show your future employees why they should work for you. Your future plans for the company could excite people, sharing common passions for your industry and outlining how the business could benefit them.
For more information about how to get started with your business plan, or assistance with your payroll and bookkeeping, come to Adams Accountancy. Our services make finances simple, so call us today on 01322 250 001 or email info@adams-accountancy.co.uk.